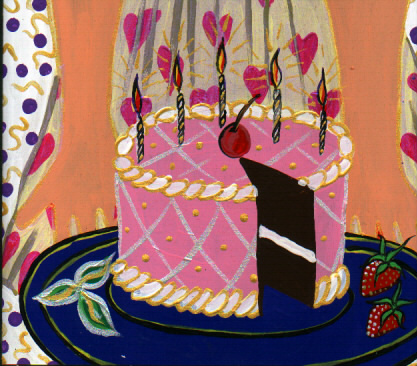 Here's my great summer discovery>>>>>>>>>>>>>>A Barbeque Grill!!!!!!!!!!! Now you may be thinking "What is a skinny single woman doing with a big man-sized suburban GRILL?" It's even a manly black too...oh, I guess they ALL are...oh well!
Well my strategy is this:
1. Go to the market on Sunday night or Monday morning. Watch for good-looking men and hand out your business card...oops this isn't mandatory. Only use the second part if you are interested in dessert. Completely optional!
2. At the market buy 4 meats. Your choice here! And lots of vegies. Corn on the cob is always a pleasant addition!
3. Stoke up that big grill and cook everything!!! Invite friends over or just be alone with your food and sing a lot so no one thinks you're nutty.
4. Now wrap everything in meal-size portions and FREEZE.
5. All of the food is done, so when you finish your work and get home all tired and spun out, just grab something and MICROWAVE.

That's the secret: Cook, Freeze, Microwave...it is so cool and it really works!

Another cool idea is to use all of the leftovers for what I call a Cowboy Supper. Chop up the meat, add the vegies, and a big chunk of butter, and warm up in a big black spider skillet. The skillet is for authenticity! Yum! Hearty and Delicious! Men love this even if they aren't cowboys.

And, Lastly, Friday and Saturday nights go on a dinner date. Suggest really fine restaurants. Make the date a pleasant journey of food!!!! Whether you want dessert or not is up to YOU.

**********************************************************

Warning....Warning!!!!!
Stay away from any man who is picky about food!!!!!!!!! FOOD LOVE=SEX LOVE If a man has no taste for savoring delectables in his mouth, he won't savor your wonders either. Unless you want a sexless involvement, then, sure, go ahead and look for this special quality! Try not to err on the other side either. A glutton will not savor you. He is all hit and run. The perfect lover will take a taste of food and and comment on it's wonders...the textures, aromas, tastes. Go home with HIM!!!!
Now if it's marriage you're after, you may want a lover I once had. He ate corn and potates every night. The entrees would change but the sides didn't. Now that is quite a man! He would be a good husband. This elusive man would be easy-to-please and he would love YOU forever! One taste of you, and if you're very lucky, he will like you as much as corn and potatoes. Just get the emerald and adore him and he will adore you.
P.S. I can give you the name and email addy of this man, if, and this is a big IF, he hasn't married anyone. Just ask!
My current man, is a male of great taste, a man I call ManRoot (for GOOD reasons!!!!!). He is a blue-eyed, reggae-singing photographer who has lots of tattoos and piercings! He even knows "tri formaggio"!!!! for God's sakes!!!! You can't have him, sorry. I plan on keeping him forever.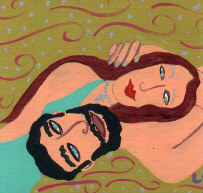 "The Embrace"
NFS